NORTHERN KENTUCKY RUN 1998
Here is a list of 1998's attendees. There was a total of 17 of us.
Joe Shutte 1988 Dark Blue NA
Kameron Vanover 1989 White NA
Dave Stradtman 1988 Black SC
Ben Rowley 1987 White NA
Chad Toennis 1993 Red NA
Steve Hoult 1989 Red SC
Dan Barnes 1986 Red NA, Dave's other MR2
Ed & Brenda Wood 1991 Red NA
Jay Bennett 1993 Black NA
Mike Smith 1987 Gold NA
Tony Destafano 1991 Red NA
James Ko 1991 Blue NA
Raphael Hurier 1991 Red NA
Michael Reynolds 1991 Red Turbo
Pat Randall 1986 Black NA
Dan Lute 1987 White NA
Sandra Robinette 1992 White NA
Here are some of the pics from the first Northern Kentucky Run that happened last September.

There is Ben Rowley posing for the picture.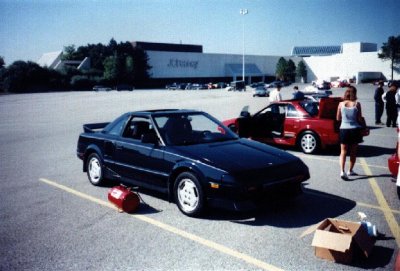 That is a pic of my 88 NA automatic.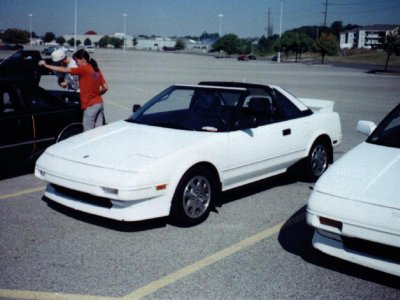 The White 1987 NA seen here is Ben Rowley's. What a nice ride.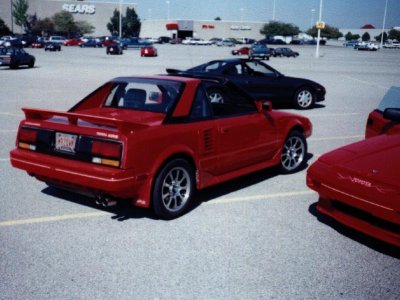 Steve Hoult's 1988 Red SC. One fast car.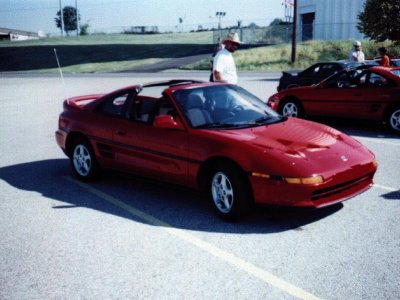 There is Ed and Brenda Wood's pristine 1991 NA.
James Ko's 1991 Blue NA. James are you out there in MR2 land anywhere. Haven't been able to contact you.
I have some more pics but the quality of them is even worse than the ones seen here.
If you took some pics of the rally send them my way and I will add them to the site.
Thanks to all of you that attended the first Northern Kentucky Run.